It lies at the top of the verdant surroundings of the Bhor ghat. Located just 90 Kms from Mumbai and easily accessible by road and rail, the Sanitarium has for several decades been a haven for Parsee Zoroastrians, both young and old, who are looking for a quick Weekend Getaway, either from Mumbai or Pune.
Situated at a height of over 1500 feet above sea level, Khandala is blessed with a pleasantly cool climate all through the year. The monsoon season is a captivating time to visit Khandala.  To watch the misty landscape interspersed with myriads of spontaneous waterfalls cascading down the hillsides is a treat to behold. Situated right next to Khandala  Lake, Sir J J Holiday Villas and Sir J J Sanitarium provide a serene and panoramic location to either relax and unwind or to venture out on adventurous treks or a leisurely boat ride on the lake.
The Sanitarium provides Boarding & Lodging to suit all budgets.  Sir J J Holiday Villas have 8 AC Rooms with independent balconies having a bird's eye view of Khandala Lake. Behind the Villas, on the hillside, are the newly renovated Sanitarium Blocks – A & B.
Block A (Gr+1) contains 6 Apartments, each with its own Living Room, 2 AC Bedrooms and attached Toilets. Block B (Stilt+2), houses 6 Apartments, each with its own Living Room and 2 Bedrooms.  There are also 2 Apartments with a single Bedroom each.
Non-Parsi caretaker is allowed.
No pets are allowed.
The Sanitarium also has sufficient Parking space for our Patrons' vehicles.
The Room Charges are as under:
Name of Establishment
Type of facility
Maximum Occupancy
No of Rooms
Room Charges (Rs)
Charges for Addl Person

Sir JJ Holiday Villas

AC Double Room

2 Adults +


2 Children

8

W'end : 2500/-


W'day : 1750/- 

Rs 1200/-

Sir JJ Sanitarium – Block A

2 Bedroom AC Apartments

5 Adults




6

W'end : 3000/-


W'day : 2400/- 

Rs 750/-

Sir JJ  Sanitarium – Block B

2 Bedroom Non AC apartments

5 Adults

6

W'end : 1500/-


W'day : 1100/- 

Not Permitted

1 Bedroom Apartment

3 Adults

2

W'end :   1000/-


W'day :   800/-

Not Permitted
Cancellation Policy
DURING HOLIDAY SEASON SCHEME – NO REFUND
NON SEASON – 50% REFUND IF THE CANCELLATION IS MADE 48 HRS PRIOR TO THE CHECK-IN
BANK HOLIDAYS TAKE WEEKEND RATES INTO CONSIDERATION
The dates for the Holiday Season are as under  :
Summer Vacation – 15th April to 12th June 2022
Diwali Vacation – 14th October to 6th November 2022
Christmas vacation – 16th December 2022 to 8th January 2023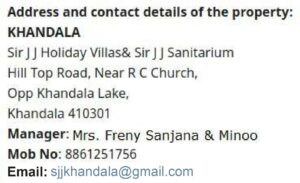 Details
Prices start at: ₹1,750 per night
Availability
Reservation Form